Admissions Module
"An investment in knowledge pays the best interest"- Benjamin Franklin
Automated admissions process with Unicampus!
Automate your admission process and find the best students for your institution.
Managing admissions can be a huge task, are you looking at automating your admissions process so that you can make the process easier for students to apply?
UniCampus Admissions Management will do this for you!
The increasing numbers of students seeking admission in the academic institutes are causing tremendous pressure on the administrative department to manage and arrange the admission process manually. It is difficult to conduct the process accurately and in timely manner. When the process is handled manually then, it is also very slow and time-consuming.
Unicampus' Admission System maintains the whole admission procedures in a time-saving manner. The integration of online admission gateway in institutes enables the parents and students to complete the application process using internet from anywhere. The admission system integrates technology with the administrative/education process and is beneficial for both the institution and the students alike.
Unicampus aims to computerize the admission management system structure, its related operation, and functionality to rectify these weaknesses. Also, the purpose is to provide support to the administration and admission seeking candidates by providing a faster, transparent, and easy way of maintaining records and utilize them for further proceedings.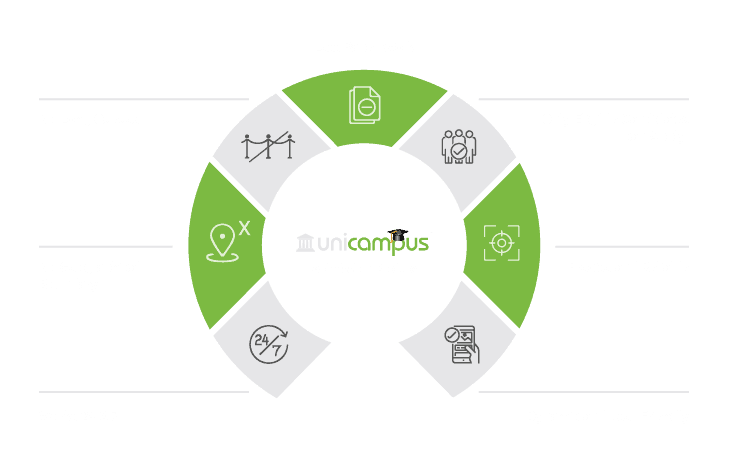 Features Of Admission Module
Web portal: Admission Module is a web portal of admission for automation of all pre and post admission activities of an Institution.
Integrates with various technologies: The portal supports various modern technologies such as – Online payment gateway, auto SMS, and auto Email for student admission application and confirmation of admission.
Data protection: It is a fully integrated multi-user system with full protection against unauthorized access. It provides secured, accurate, & timely information to users at all levels for better decision making.
Data protection: Apply online using custom forms with real-time status updates. This means no wasting time standing in long queues and turning in paper forms.
Transparency in Admission: Engage the students with clear and transparent information in the selection of students.
Customizable Real Time Reports:
Institutes can monitor the ongoing process
Have day to day summary of progress of the admission
UniCampus, Admissions Module- Interactive, User- friendly and Customizable!